People at conferences and meetups often ask me what I would recommend learning X or Y. And I'm always happy to give some suggestions depending on the experience level of the person that asked. Unfortunately, this doesn't scale very much, so here are my general recommendations on learning something very effective. This time: Wardley Maps.

Wardley Maps are a fascinating topic: They bring light into the dark times of IT departments and other institutes that are under big pressure theses days.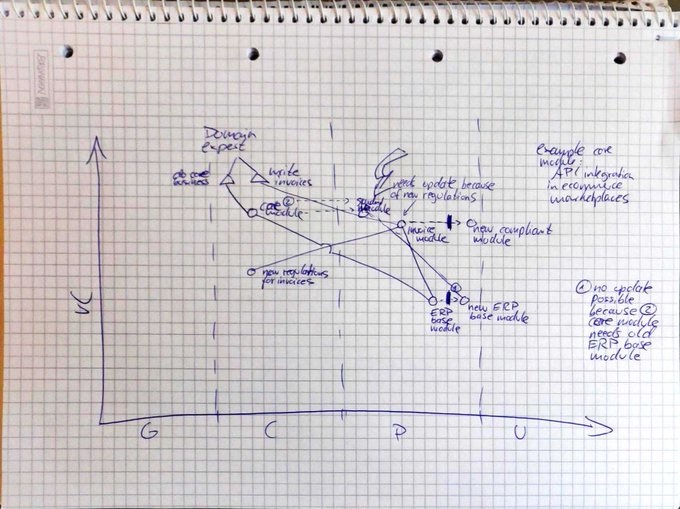 A scribbled Wardley Map
(skip the following section if you just want to learn Wardley Mapping)
A little bit of my personal history with Wardley Maps
A colleague of mine introduced me to this strategic tool at the beginning of 2019. I went to the blog post series of Simon Wardley (the creator of Wardley Maps) and was completely unable to parse and process all the information that was there. I also had no time to read through a 500+ pages book at this time. So I abandoned the idea of learning Wardley Mapping. Later on, Thoughtworks decided to put Wardley Mapping to the "assess" phase on their Technology Radar in April 2019. There, I again came across Wardley Maps and wondered why everybody seems to be so fascinated in Wardley Mapping.
I've got interested again and watched my first Simon Wardley video (TOP 2). It was nice, but I didn't understand anything. But he got me at "high-level situational awareness environments are context-specific". So I watched another one and didn't understand everything. And another one and got some ideas where this leads to. And finally, it clicked. I was absolutely fascinated by the richness and detail Simon had added step by step over the last few years to Wardley Mapping. I think I watched all videos of Simon that were available on the internet in mid-2019.
By coincidence, I also got into the training business around the topics "software modernization" and "IT transformation". With Wardley Maps, I think I've got a great tool to reason about overgrown IT landscapes out there and how to visualize the current state as well as thinking about future options with a nice, comprehensible map. I'm still learning to map. But I do while teaching others so that they can help themselves out of the darkness ☺️.
OK, that was my little story. But now, without further ado, here are my recommendations for you!
TOP 1: Investing in innovation – How situational awareness can put your business on the map (Video)
Link: https://www.youtube.com/watch?v=Gfq3ocmadZo
Short explanatory video about Wardley Maps:
TOP 2: Simon Wardley – Situation Normal, Everything Must Change (Video)
Link: https://www.youtube.com/watch?v=Ty6pOVEc3bA
Short and very entertaining lecture by Simon Wardley himself:
TOP 3: learnwardleymapping.com (Website)
Link: https://learnwardleymapping.com/
Page for beginners to learn Wardley Mapping by Ben Mosior. There are also videos that explain the different chapters of Simon Wardley's book (Patreon supported). Ben also published a video that shows you how you can start mapping within 10 minutes!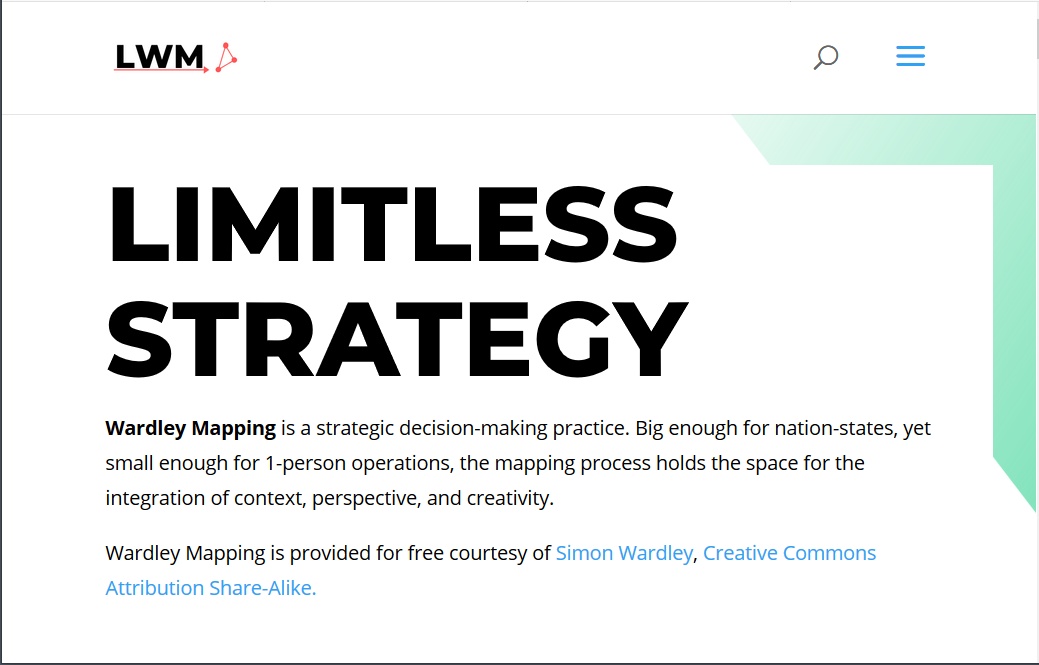 TOP 4: Simon Wardley – Wardley maps: Topographical intelligence in business ("The Book")
Link: https://medium.com/wardleymaps
Free (reference) book by Simon Wardley, written as a series of blog posts.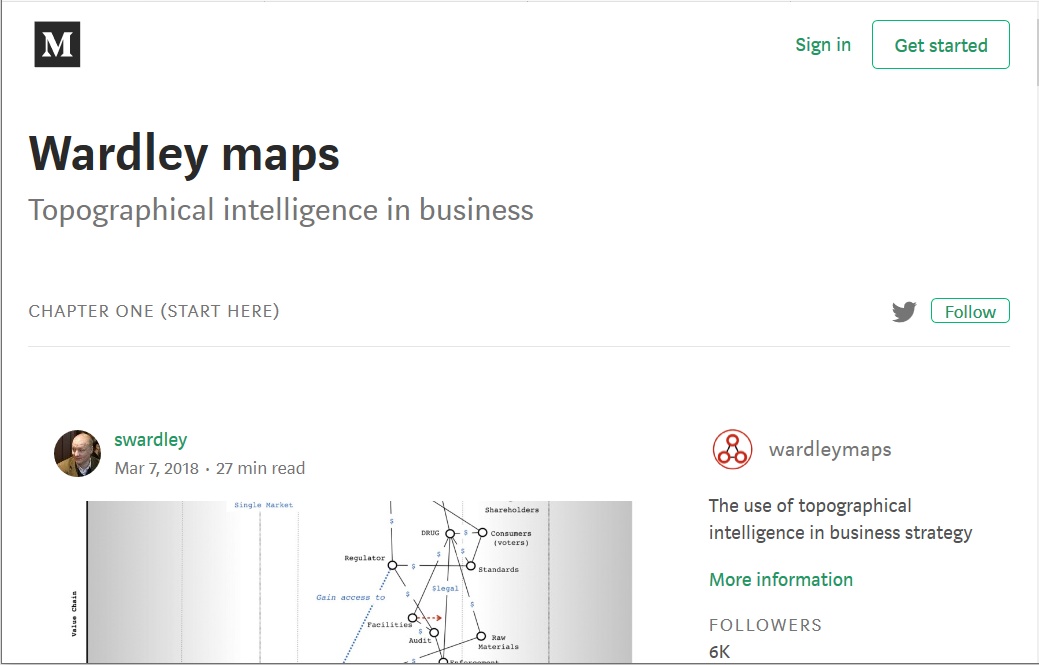 Update 2020-07-01: There is now also an audiobook version of the book available as well as an Asciidoc / mobi / PDF version. Because you can now choose from more media, I put this resource from TOP 5 to TOP 4 🙂
TOP 5: Adrian Cockroft – Mapping Your Stack (Video)
Link: https://www.youtube.com/watch?v=4cp5qtLkPcY
A longer talk by Adrian Cockcroft from Amazon Web Services on cloud mapping (to AWS, of course 😉 )with Wardley Maps:
Also higly recommended
And there is also a great online course available (for little money): https://learn.leadingedgeforum.com/p/wardley-mapping
Resources for German speakers
Hier findet ihr einige zusätzliche, deutschsprachige Ressourcen:
I hope these resources help you get started with Wardley Mapping!
How did you start to learn Wardley Mapping? Do you know other effective ways of learning it? It'd be great to know! Just leave a comment down below so that we can discuss it!
TOP 5 Learning – Wardley Maps