You probably noticed that I haven't published some new content on this blog in November. This has some pleasant reasons that I like to share with you in this post:
Talks, Talks, Talks, Talks
I did four talks at various meetups and barcamps during November:
My first talk was at the Java User Group Metropolregion Nürnberg about the topic "Identifying problems in software development in a reproducible way with data analysis".
Listening to @feststelltaste at #JUG Metropolregion Nürnberg pic.twitter.com/mLgUl4QuyH

— Werner Eberling (@Wer_Eb) November 16, 2017
It was about how software developers can use Data Science tooling to identify (and partially solve) their own problems.
Two days later, I attended the Software Engineering Camp 2017 in Tennenlohe/Erlangen. Of course, I had a talk with me: "Data Analysis in Software Development with Software Analytics".
"Datenanalyse in der Softwareentwicklung mit Software Analytics" mit @feststelltaste bei Adele Goldberg #SWEC17 pic.twitter.com/mS5UfkvH9H

— SWEC17 (@swe_camp) November 18, 2017
The audience was really great and we had good discussions about the usage of Software Analytics during the whole day.
Data analytics with pandas and Jupyter Notebooks looks really promising, I'll definitely have to check this out #SWEC17 @feststelltaste pic.twitter.com/MwSLrPHGbC

— Alexander Rampp (@bitschupser) November 18, 2017
On the second day, I had great fun in my second session about my new old computer Epson HX-20.
Kleiner Coding Dojo am Morgen mit @feststelltaste beim #SWEC17 gefällig? @swe_camp pic.twitter.com/I6dzzL5Gtb

— Florian P. (@Poschi3) November 19, 2017
I saw this little laptop (the first of its kind at all, released in 1982) in a museum a few years ago and fell in love with it immediately. So I bought my own on eBay last month. It was used in the Bundeswehr (the German military) and there were some microcassettes that probably contain still some data from this area. The goal of this session was about reading that data.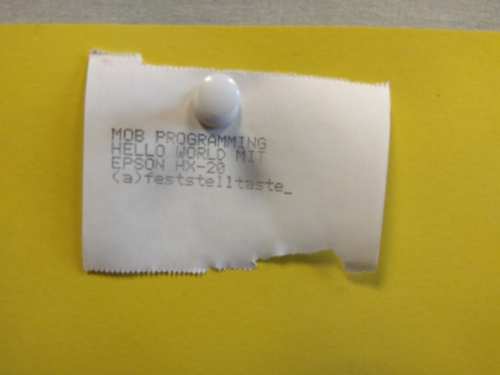 The title of the session was "Mob Programming Hello World with Epson HX-20" 🙂
Erst mal ne Runde BASIC auf dem Epson HX-20 mit @feststelltaste #SWEC17 pic.twitter.com/gMotQqLWtu

— uɐƃoʎ (@yooogan) November 19, 2017
We didn't achieve reading the data from the Bundeswehr microcassettes, but we got the microcassette deck working with some BASIC programming and listened to some nice analog tunes at the end. We had great fun!
Zum Schluss noch bissl Code lauschen. #swec17 pic.twitter.com/pSTpTsql04

— uɐƃoʎ (@yooogan) November 19, 2017
Side note: I got a new sticker as well for my machine.
Thanks @Poschi3 and @yooogan for the sticker! #MakeAStatement #SayNoToIPv4 #SWEC17 pic.twitter.com/sBFwucJIvG

— Markus Harrer (@feststelltaste) November 19, 2017
But the talk that took most of my free time/preparation time was the Neo4j Online Meetup "Software Analytics with Jupyter, Pandas, jQAssistant, and Neo4j". It was my first online live talk before a worldwide audience. It pushed me really out of my comfort zone – in a very good way. Unfortunately, I put way too much content in the talk with too many demos telling too many details. I also was struggling with speaking English because I haven't used it for quite some time…sorry for that. I promise to do better in the near future 🙂
https://twitter.com/feststelltaste/status/934100337807581184
But I'm really glad that I put the first ideas out there in the world. I will definitely put more videos online because it's a great medium to see that basic Software Analytics isn't hard at all (and it's a good chance to get back to some decent English as well 🙂 ).
You can find the slides of my talk on SlideShare:
Update: Cool, I'm the Featured Community Member of the last week 🙂
A little Blog Experiment
I also tried out blogging on dzone.com. My article about "code inventory" got immediately published on the site. Dzone is a great way for reaching out to thousands of developers that wouldn't otherwise come over my blog. I earned 2000 views in just two days.
Call for Papers
I participated successfully at a Call of Papers at one of Germany's biggest software conference JAX 2018. I'm very honored that my talk "Software Analytics for Practitioner" is in the software architecture track along the "big names" in our industry 🙂
https://jax.de/software-architecture/software-analytics-fuer-praktiker/
Book Review
On top of that, I reviewed Adam Tornhill's new upcoming book "Software X-Ray" as one of the technical reviewers. The book provides a very good body of knowledge about data analysis in software development. It's highly recommended for everyone who wants to get started in this area:
Just finished the technical review of @AdamTornhill's upcoming book "Software Design X-Rays". If you want to take a look behind the scenes of next-gen code analysis: Go and get it!

Beta version already available @pragproghttps://t.co/qlHhuBXuQZ

— Markus Harrer (@feststelltaste) November 20, 2017
Next steps: Workshops and Online Videos
In the next weeks, I'll create some content for workshops and trainings to bring data analysis to software developers here in Germany in 2018. I'll also create some online video material for you that should allow you to take the first steps in the area of Software Analytics all by yourself.
Last but not least: The very good news
As you probably can see, I'm very busy at the moment even without writing new articles. I could easily fill my whole time with the topic "Software Analytics". In fact, I do plan to do so in small steps:
I'm now preparing my freelance activity besides my employment.
Beginning with April 2018, I'll have at least one day off in the week to give workshops and trainings about data analysis in software development to developers!
For more information, visit markusharrer.de !
So stay tuned for more news on Software Analytics in the near future!